In the world of sports cards, a white whale is a card that you have decided to be a must have for your collection. It might not be valuable to others but for you, your collection is incomplete without it.
However, acquiring it is very difficult because it seldom comes up and chasing that card might sometimes take you years.
Since I started collecting Dwight Howard in 2006, I've been wanting to add a card serial numbered 1/1 to my collection. Yes, a card that is the only one of its kind in the world. Although others might say that a 1/1 is not so rare nowadays, acquiring one might be difficult especially if the player featured in the card is Dwight Howard. Howard belongs to the upper-tier of NBA players and there are actually many collectors wanting his picture on a cardboard.
After five years, finally got my white whale. It's not just a simple 1/1 base card. It's a 1/1 with pieces of Dwight Howard's game-used jersey and his autograph. It might be on an ugly sticker but I'll still take it anytime.
Dwight Howard 07-08 Topps Triple Threads Auto Jersey Printing Plate 1/1
FRONT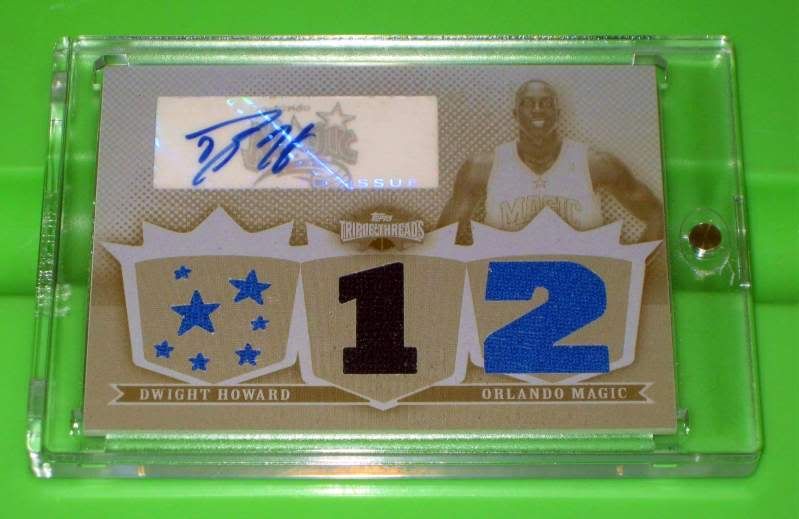 BACK
The card is a printing plate used to print other cards like the one shown below it which is serial numbered 1/9 and was included in my
March 21-25, 2011 mail week
.
NEXT TARGET: That elusive Shaquille O'Neal white whale - an autographed 1/1 or a 90's low serial numbered parallel card.