Over the years, Lebron James' signature has evolved. Along with the improvement of every facet of his game every year, his signature improved too.
I can say that his rookie-year autographs look like a kid's scribble.
After
"The Decision"
to play with the Miami Heat starting next season, Lebron decided to switch to a new number... and a new signature.
Check out the evolution of Lebron's autograph through the years after the jump.
2003-2004 (Rookie year)
2004-2010 (with the Cleveland Cavaliers)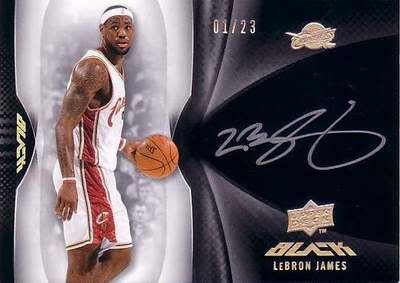 As an Upper Deck exclusive, UpperDeckStore.com is now selling a LeBron James Autographed 'Welcome to Miami' Photo for $699.99.
It features Lebron wearing his Miami Heat jersey #6 and of course, his new signature.

No trading card of him with his new auto is out yet.
Will "The King's" game evolved again to another level as he now shares the spotlight with Dwyane Wade and Chris Bosh?
Can't wait to see the Miami Heat vs Boston Celtics
tip-off game on opening day
.
Link to the item
here
.