Kobe Bryant's rookie campaign was not exactly explosive.
As only the 13th pick in a very deep 1996 NBA Draft, and the first guard to be ever taken out of high school at that, his minutes were very limited especially that the team he plays, the Los Angeles Lakers already got a talented guard duo in Eddie Jones and Nick Van Exel.
As such, his trading cards were very much largely ignored by collectors in lieu of batch mates Allen Iverson, Shareef Abdur-Rahim, Stephon Marbury and Antoine Walker who were immediately trusted into the limelight as franchise saviours.
So, when the 96-97 Topps Draft Redemption cards came out, few were redeemed for card #13. The Draft Redemption trade deadline was April 1, 1997 and it was already too late for collectors when Kobe blossomed into a superstar in his sophomore campaign.
FRONT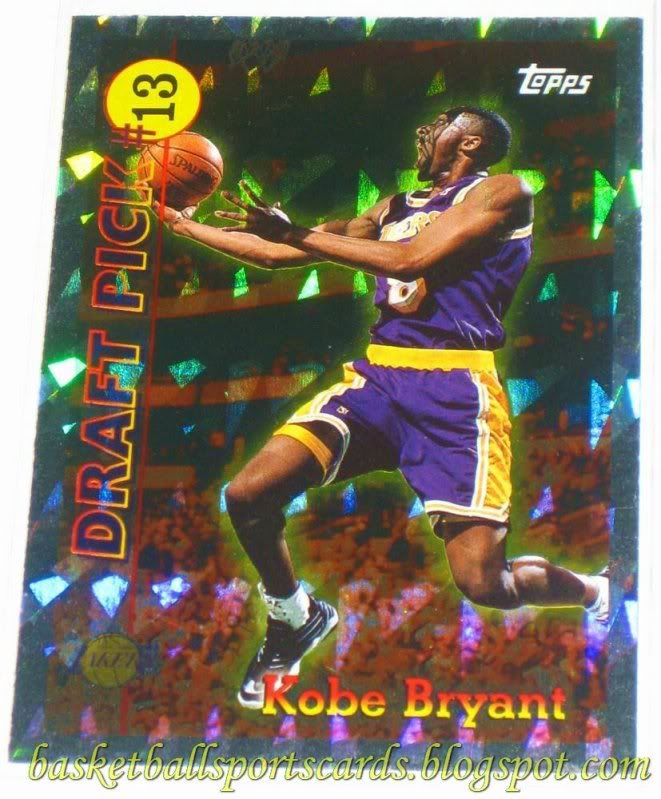 BACK
I think this is also one of his most beautiful albeit also one of the most condition sensitive due to chipping issues.
I'm hoping to get a graded one if funds allow me someday. A BGS 9 or PSA 9 will do.
Card is currently listed on Beckett with a value of $100.
UPDATED May 29, 2011
: I decided to add this data for referential purposes. Here are the last three eBay sales for this card ungraded.
SECOND UPDATE January 29, 2012:
Here are the most recent sales.