The week of January 23 - 27 is great for me as I got a huge number of cards I need for my
Shaquille O'Neal and Dwight Howard main PCs as well as for my Michael Jordan side PC.
Check out my mail week as I listed them per player.
SHAQUILLE O'NEAL
Traded with BigAl_83 of SCF
* Garnett / Shaq 09-10 Classic Confrontations patch #d /25
* Shaq / Lebron
09-10 Classic Combos
jersey #d /99

Trade with BenDenham of SCF
* 04-05 Black Diamond jersey
* 96-97 Skybox Premium DT Rubies parallel
* 96-97 Metal Precious Metal
* 92-93 Hoops RC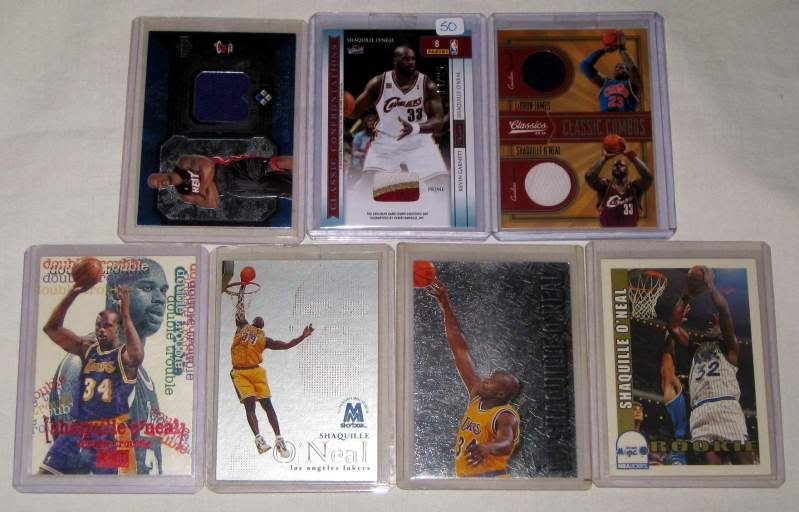 Also from
BigAl_83 of SCF are these two cards below:
* Duncan / Nowitzki
09-10 Classic Confrontations
patch #d /25 - this is the only dual patch of two of the greatest forwards in NBA history
* Dwyane Wade Bowman Chrome X-fractor #d /150 - hard to find 2nd-year card
of the Miami Heat guard
The 2009-10 Classics Classic Confrontations Jerseys Prime #6 Dirk Nowitzki / Tim Duncan
DWIGHT HOWARD
Bought from lockie of ozcard
* 2007-08 Bowman Elevation Relics Patches Dual #DH #d 9/9 - last numbered!
* 2009-10 Timeless Treasures Rookie Year Materials Prime #1 #d 25/25 -
last numbered!
* 2009-10 Playoff National Treasures Biography Materials Prime #8 #d 04/25
* 2005-06 SP Authentic Limited Warm Ups Autographs #61 #d 098/100
* 2009-10 Playoff National Treasures NBA Gear Dual Prime #12 #d 02/10
MICHAEL JORDAN
Traded with mcards11 of SCF
* complete set of 1997-98 UD3 MJ3
* 1998-99 SPx Finite #181 TF #d /3390
* 1996-97 Upper Deck Fast Break Connections #FB23
bought from eBay
* Derrick Rose graded cards -
I am slowly acquiring his RCs but haven't decided if I will keep them or will sell in the future. It depends on his and the Chicago Bulls performance I think. However, I can also let them go for cards I need for my Shaq and Dwight Howard main PCs and Kobe and Jordan side PCs.
And yes, I'm a sucker for graded cards especially the BGS 9.5 ones (see my Kobe Bryant graded cards project)
* 1996-97 Collector's Choice Los Angeles Lakers #LA2 Kobe Bryant BGS 9.5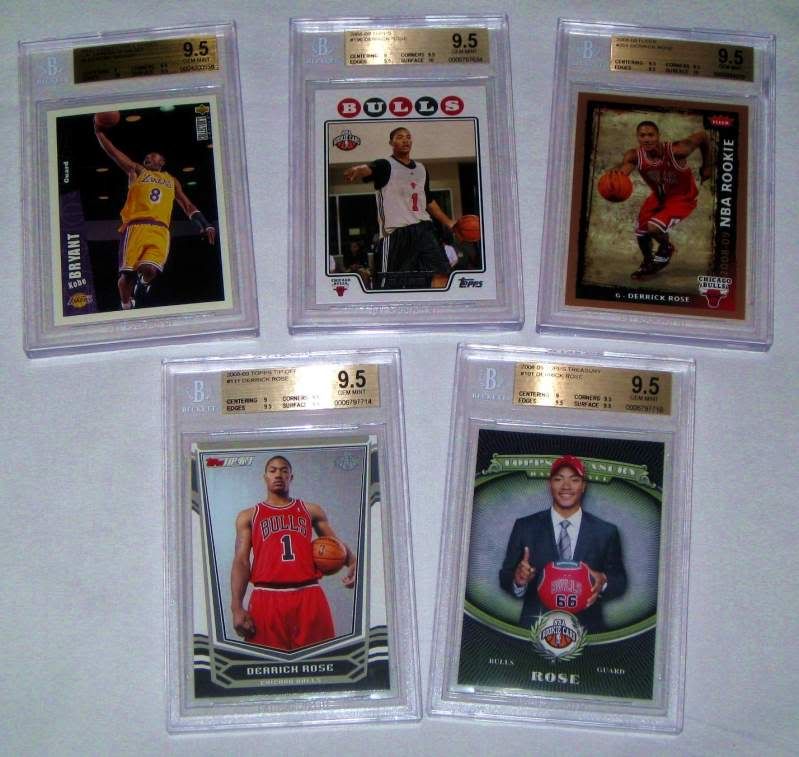 My huge
January 23 - 27 mail week!