The Oklahoma City Thunder made it to the Western Conference Finals today after defeating the Memphis Grizzlies in the
pivotal Game 7
of their Western Conference Semifinals matchup.
Kevin Durant played a large part in the 105-90 win scoring 39 points. Arguably, Russell Westbrook provided the more impact as he finished with his first playoff career triple-double (14 points, 14 assists, 10 rebounds).
He had only the fifth triple-double in Game 7 history, joining Jerry West (1969), Larry Bird (1984), James Worthy (1988) and Scottie Pippen (1992).
That's an elite company I must say that I have to show off the best Russell Westbrook card I have in my possession.
It's a 2008-09 UD Black #46 Russell Westbrook JSY AU RC /99.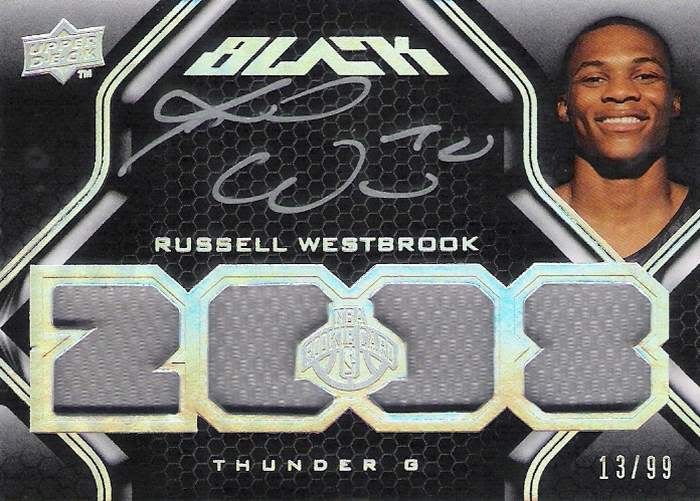 This is one of Westbrook's rarest rookie cards being numbered out of 99 only.
I own one that's serial numbered 13/99. It currently carries a Beckett value of $150.
Here are the last cards sold at eBay:
I got this card last February in a trade from someone at hobbykings.
Would you believe I only traded a
Joe Crawford SPx RC #d/99, a Tyrus Thomas MVP Gold script #d/100 and an Andrew Bynum SP Game Used Patch #d/25 for it?
Call it luck.
UPDATE January 26, 2012:
Sold this card on eBay for $144. Not bad I think.