The itch to open basketball boxes is becoming unbearable again so I decided to buy unopened basketball boxes from Dave and Adam's Card World last November 3. The package arrived two weeks later on November 19.
Here's my 08-09 SP Rookie Threads Basketball box break. This is actually my second box break of this product after last July's
08-09 SP Rookie Threads box break
.
A box of 08-09 SP Rookie Threads contains 6 packs. Each pack contains 5 cards.
These are what I got:
HITS!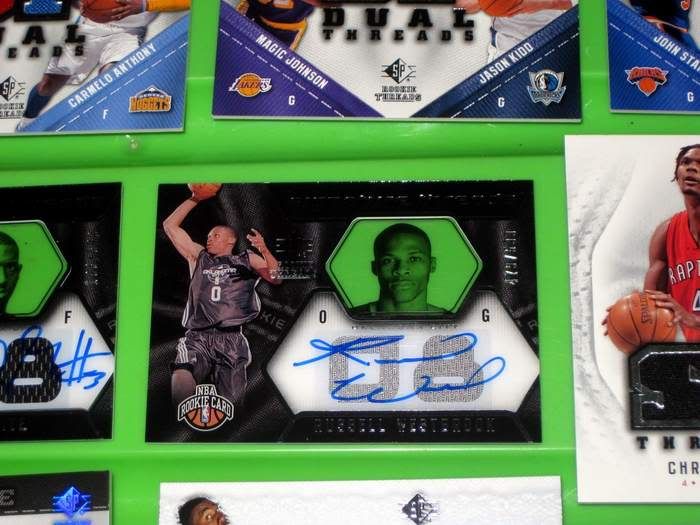 * Russell Westbrook Auto Jersey RC

- beautiful on-acetate auto with 2 jersey swatch, on-fire right now consistently selling in the $55-$60 range at eBay [LINK] [LINK]
* New Jersey Nets Rookies Brook Lopez, Ryan Anderson, CDR patch #d/15
* Dual Player Dual Jersey - Scottie Pippen / Carmelo Anthony


* Dual Player Dual Patch - Magic Johnson / Jason Kidd
Other cards
*
Dual Player Dual Jersey
John Starks / Tony Parker
* DJ White Auto Jersey RC
* Dual Jersey cards of Chris Bosh, Rip Hamilton, Luol Deng, Elton Brand
* Al Horford Auto
* Donte Greene Auto
* Dual Player Dual Jersey Rookie - Eric Gordon/DJ White
VERDICT: ******** 8 out of 10 stars