The itch to open basketball boxes is becoming unbearable again so I decided to buy unopened basketball boxes from Dave and Adam's Card World last November 3. The package arrived two weeks later on November 19.
Here's my 08-09 SPx Basketball box break. This is actually my second box break of this product after last July's
08-09 SPx box break
.
A box of 08-09 SPx contains 10 packs. Each pack contains 3 cards. Each is guaranteed to contain one autograph or memorabilia card.
These are what I got:
I got base cards of Kobe Bryant, Lebron, Shaquille O'Neal and Tim Duncan among others. The whole base set is composed of 60 cards. With what I got in my first break, I now lack only 20 cards to complete the set.
The rookie / autographed cards
* Chris Douglas Roberts Auto Jersey RC #d/599 HOME - I also got a similar one in my first break
* Marreese Speights Auto Jersey RC #d/599
AWAY
* Joe Crawford RC #d/99 HOME
* Ramon Sessions auto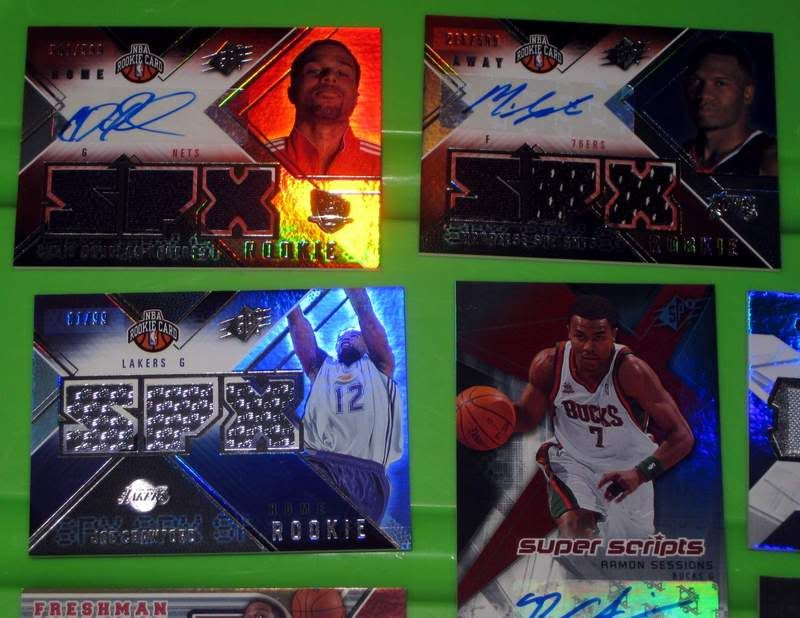 The jersey cards
* Vince Carter dual
* Rudy Gay dual
* Corey Maggette dual
* Channing Frye / Martell Webster dual
*
Chris Douglas Roberts rookie
* D.J. Augustin rookie
VERDICT:
***** 5 out of 10 stars!