When I was younger and still a student, I just buy packs from the early to mid 90's products since I can't afford to buy boxes.
Now that I'm older and can afford to buy, I have bought boxes from current products but not from those old ones.
At the
nbacardsph
forum, I read a post that a local seller based in Manila was selling some so I decided to buy boxes from 97-98 Ultra and 97-98 Skybox Premium, even though I was warned that some of the cards have stuck together due maybe to old age plus the humidity in our country.
The seller also gave me 5 FREE packs of 99-00 UD Ionix.


The boxes arrived on July 15, 2010 and these are what I got:
97-98 Ultra Series 2 - each box contains 24 packs, each pack contains 10 cards


The hits:
I got three Michael Jordans!
* View to a Thrill insert
* Star Power insert
* '98 Greats subset
VERDICT: ******* 7 out of 10 stars

97-98 Skybox Premium Series 1 - each box contains 24 packs, each pack contains 8 cards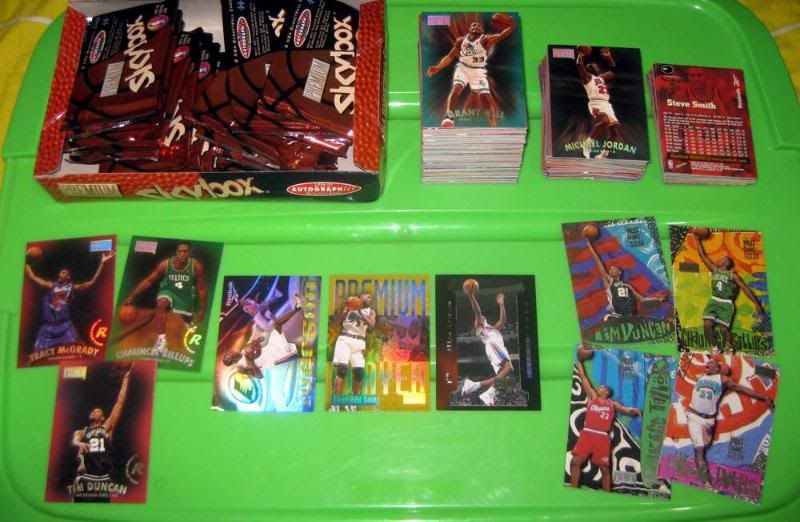 The hits:
* Shareef Abdur-Rahim Premium Players insert with 1:144 odds of getting
* Allen Iverson Rock 'n Fire insert
* Tim Duncan Next Game insert
Rookie cards - Tim Duncan, Tracy McGrady, Chauncey Billups
I almost got the complete base set with only card #12 ? and #48 Scottie Pippen missing.

VERDICT: ****** 6 out of 10 stars

Although I got no big hits really, I felt like a kid again opening packs from yesterday. Especially the Ultra where every pack has an insert.
I also realized how tough it really is to get high-end inserts from these products.
Ironically, I got a Shawn Marion rookie-year auto from the FREE packs of Ionix.
I would love to do it again.