This card is probably the most desirable card of Michael Jordan produced during the 1992-93 NBA season. And arguably, the toughest to pull.
I'm talking about the 1992-93 Michael Jordan Fleer Team Leaders insert card.
The 1992-93 Fleer Team Leaders were inserted into five of every six first series 42-card rack packs. A Larry Johnson Signature Series insert card replaced a Team Leader in every sixth rack pack. A low production run of rack packs has contributed largely to the popularity of this set.
Add to this the fact that they are condition sensitive due to centering issues and the blue borders on the front and back make any chippings very noticeable. As with any cards this age the surface can also be somewhat worn.
That's why highly graded copies of this card are very much sought after. In fact, a copy of a Jordan graded BGS 9.5 was
bought for $3,500 on eBay
!
The ungraded copies routinely sell for $60 to $100 and I was able to snag one for my Jordan side PC. I'm not a grading expert but I think mine is a NEAR MINT-MINT+.
See for yourself.
FRONT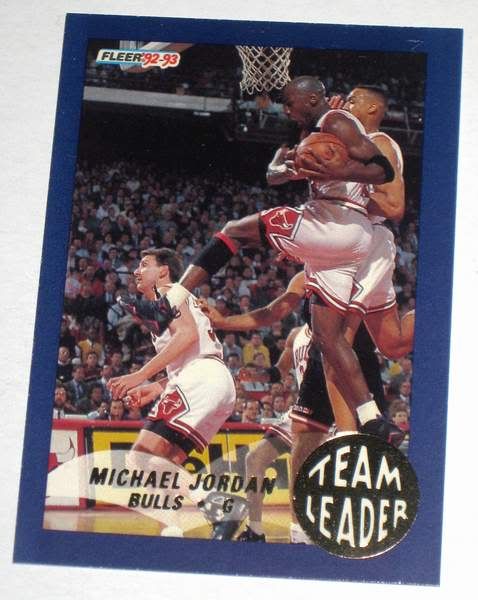 BACK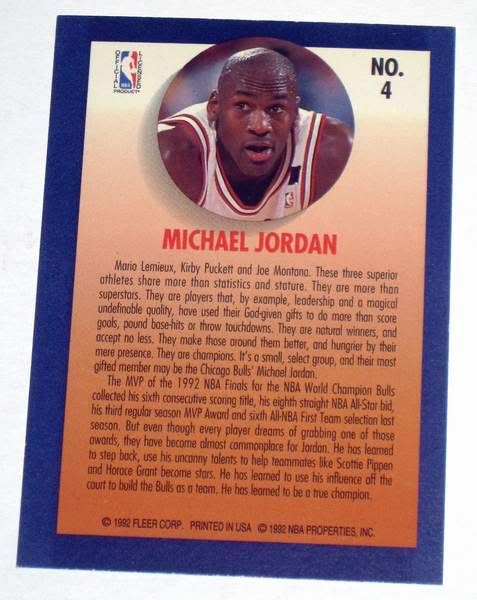 Thanks to elti0915 of NBA Cards PH for a nice deal.